Ferdausi Rahman, one of those very few names in Bangladesh's cultural arena, that have desolated the known frontiers of popularity and lifted themselves to the level of institutions themselves. Not just because she sings well anything and absolutely everything that one can imagine an artist to be doing, what make her great are the precision, consistency and class with which she pursued her passion for music throughout her life.
Ferdausi Rahman formerly known as Ferdausi Begum, is the only daughter of folk legend Abbasuddin Ahmed. Her music career started in her early years under her father's direction.
She has sung Classical, Folk, Modern Songs, Ghazals in her Cds and Records and has sung playback in many Pakistani and Bengali Films.
She has performed in many countries all over the world and she also sings in different languages.
in 1973 she was awarded the prestigious "Ekusheh Podok" as well as the "Shadhinota Podok" and many other National awards like "Best TV Singer" and "Best Music Director's Award" for the film "Meghe Onek Rong."
Her well known children's program "Esho Gaan Shikhi" also was the first musical program on Bangladesh Televison for children, and the program has been running for 44 years now.
She has 2 elder brothers, Former Chief Justice of Bangladesh Justice Mustafa Kamal and reknowned singer Mustafa Zaman Abbasi. Her niece Nashid Kamal is also an exponent of Nazrul Geeti, Folk and Classical. Her other nieces who are also singers are Samira Abbasi (in the US) and Sharmini Abbasi (Dhaka). Her grand-niece Armeen Musa, the daughter of Nashid Kamal, is also upcoming artist of Bangladesh.
Ferdausi Rahman is married to Mr Rezaur Rahman, an engineer and industrialist; and has 2 sons Rubaiyat Rahman and Razin Rahman, and 3 grandchildren Riyasha Rahman, Rahil Rahman and Rafan Rahman.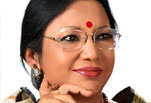 FERDAUSI RAHMAN